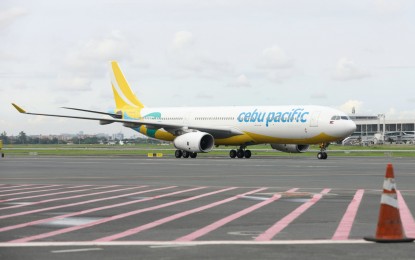 MANILA – As an added layer of protection, low-cost carrier Cebu Pacific (CEB) will continue providing free antigen tests before boarding among passengers bound for Hong Kong until October 15, an executive said on Monday.
"We are extending (this initiative) to continue extending an extra layer of protection as the situation remains fluid during the pandemic, and also due to the strict guidelines by the Hong Kong authorities for arriving passengers," CEB spokesperson Carmina Romero told the Philippine News Agency.
CEB earlier announced the free antigen test before boarding to be implemented from September 17 to 30. This is on top of the negative RT-PCR (reverse transcription-polymerase chain reaction) test result required from Hong Kong-bound passengers 72 hours before their flight schedule.
"It was well-received, and our passengers appreciated the airline initiative," Romero commented.
Meanwhile, passengers may head to the Philippine Airport Diagnostic Laboratory on the second floor of NAIA Terminal 3 pre-departure area, four hours before their flight schedule for the antigen test.
Testing is six times weekly, from 1:30 a.m. to 3:30 a.m., and they could get the result within 30 minutes according to CEB.
Only those who tested negative will be allowed to check-in. Passengers who test positive, as well as those unable to take the antigen test, will not be allowed to fly.
The PNA asked Romero if there were passengers who tested positive or are unable to take the antigen test since the implementation of the new initiative. As of posting, however, Romero is yet to provide data.
Passengers who were not allowed to check-in can still rebook their flights with no additional cost, or opt for a refund.
They can also store the ticket value in a virtual CEB wallet valid for two years for use in booking a new flight or for paying additional baggage allowance, among others. (PNA)