A Marvel fan has just broken an impressive record, regaining a title that was once his. Ramiro Alanis, who works as a personal trainer in Florida, watched Spider-Man: No Return Home in the cinema 292 times! He had already won the Guinness title in 2019, when he went to the cinema to see 191 screenings of Avengers: Endgamebut his record was surpassed in 2021 when Arnaud Klein went to see Kaamelott – Premier Volet 204 times.
the website of Guinness World Records confirmed that Alanis regained the record when she attended nearly 300 screenings of the latest Spider-Man movie between December 16, 2021 and March 15, 2022. Alanis said she hopes the high number will keep her title safe.
"If someone tries to break my record again, I want them to think twice before trying"he told Guinness.
The organization's rules required Alanis to remain in her seat with her attention on the screen throughout the film, including the credits. He was not allowed to look at his phone or take bathroom breaks during screenings.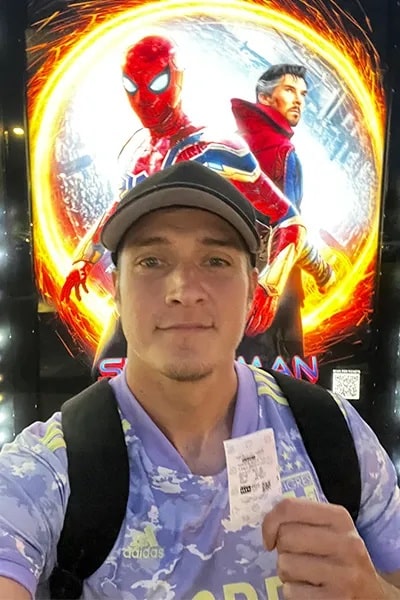 This was something Ramiro learned the hard way when he reached the record, as 11 of his views were disqualified due to bathroom breaks. To confirm that he watched it from start to finish, he needed the stub of each ticket and a statement from a theater employee after each showing.
The personal trainer estimates that he spent around US$3,400 on tickets during his attempt, something around R$16,000 at the current US dollar exchange rate. The record holder also said that the night screenings were the most difficult, as he had headaches after having watched the film several times during the day.
Ramiro adores all three actors who play Spider-Man, and despite having met Tom Holland, he said that if he had to pick a favorite, it would be "Andrew Garfield and His Redemption Arc".
Before Ramiro and Arnaud, the record belonged to the Australian Joanne Connor, who watched Bohemian Rhapsody (available on Star+) 108 times in early 2019.
follow him Disney+ Brazil Guide on social networks and stay on top of Disney streaming tips, news and releases.
•
•
•
•