My interview with LJ Reyes on The Interviewer Presents was probably one of the most difficult conversations I had on Batalk Channel (Boy Abunda Talk Channel) on YouTube. LJ was in tears during the most part of the interview. You could almost smell her pain.
LJ confirmed that she and Paolo Contis have separated after being together for six years. Paolo removed LJ's photos on his Instagram account.
LJ and her kids, Aki and Summer, are currently staying in New York with LJ's family. LJ talked about her mom, who has been in New York since 2001. "My mom is happiest now that we are finally here at nakita niya ang mga apo niya," she said.
Aside from having a day job, her mom also runs a small café bar together with LJ's sister and brother-in-law.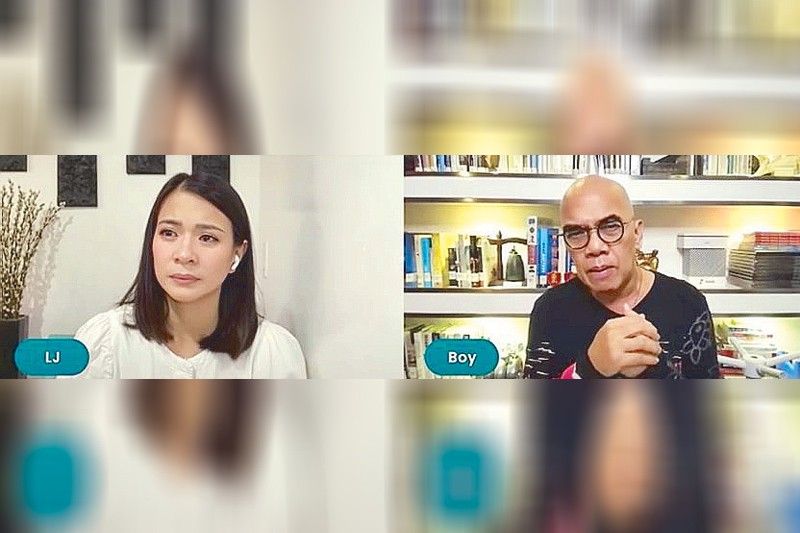 This columnist during the exclusive interview with LJ about her breakup with Paolo.
"My mom raised us by herself, that's why she is used to being very busy," LJ added. "Now that we're here, I'm hoping that she will slow down a bit so she can enjoy."
A few days before the interview, I got a text message from LJ and then I called her back after a few hours. I found out that she was on her way to the airport that day because she was leaving with her kids for New York.
She explained during the interview, "Tito Boy, honestly, I needed somebody to talk to who I can trust. We all know that in this business it's really hard to find people who we can really trust. I want to ask some pieces of advice from you on how I should deal with things that I am currently experiencing. I'm happy that you called me. Thank you very much."
The separation issue was very sensitive. I told LJ that she didn't have to go into details if she was uncomfortable in explaining things.
LJ revealed, "Tito Boy, ayaw ko po siya (Paolo) makausap. I really cut the line. Parang natatakot po akong kausapin siya kasi parang pakiramdam ko totoo iyong sinasabi niya sa akin pero marami kasi akong nalaman na hindi totoo. It's difficult because he was close to my family. Nakikita kong nasasaktan sila para sa akin at para sa kanila rin."
Here are excerpts of my exclusive interview with LJ:
When did you decide that you wanted to break your silence?
"I think you know very well that I don't really talk about my personal life. As much as I can, I separate my work and my private life."
I was surprised when we finally talked to each other and you were leaning towards breaking your silence. I said this must be important for you to even think about it because never in all the years that I have known you did you even attempt to talk about anything that was private in your life.
"If I am the only one involved, I could have kept my silence. But I always say that first and foremost, I am a mother of two beautiful kids. And when they are already affected, I think any mother will step up and defend her kids and her family."
Am I right to say that the reason why we are talking is because the kids are involved? How are they affected?
"Actually, I really don't want to talk but there are stories out there na medyo twisted na ang facts. I don't want to reach a point na pinabayaan ko lang sa public ang hindi totoo. We live in a time when access to information is very easy. Aki is already 11 years old. Exposed na siya sa mga classmates at sa ibang tao. We left because I felt like I really need me, myself, and my kids out of the situation physically para kahit papaano matulungan kami emotionally and mentally to recover and rebuild as a small family."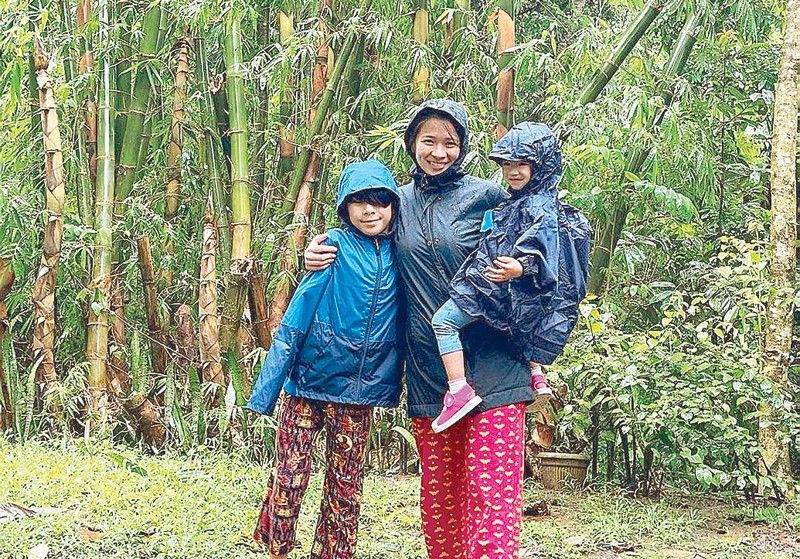 The actress with her children Aki and Summer.
How difficult was the separation? What is your side of the story because we hear news that it was a mutual decision between the two of you, that there was no third party involved, and that you outgrew each other?
"It was so difficult and painful. If I don't have a strong faith in God, hindi ko alam kung saan ako pupulutin. If I don't love my kids, who are my motivation to wake up and stand up every day, I don't know where I would be. I decided to speak up because kapag iyong anak ko na ang nagagawan ng mali I think kailangan kong sabihin na hanggang dito lang. Kailangan ko pong ilayo ang mga bata because I need to protect them. We need to have a healthy and safe environment for the sake of the kids."
Was your separation with Paolo mutual? Did you talk to each other?
"It's been so hard the past several months. I tried not to let my kids and the public notice. I never talked. The past two months have been revelation after revelation. I can only sleep at night by listening to praise and worship songs. I sometimes get nightmares kasi hindi ko po alam paano nangyari iyong mga bagay na nangyari. I couldn't separate anymore the reality that I learned from the new information revealed by people around me, from what I uncovered. It was not a mutual separation because I believe that if it's mutual, there is only one decision and both of you agree that the relationship is not working anymore."
You were saying that it is not mutual so somebody had to go. Sino iyong humiwalay?
"Matagal ko na kasing nararamdaman na parang nakahiwalay na siya sa akin, sa amin. I really felt it. Honestly, ako po iyong nagsabing parang nasa ibang mundo na siya at parang pakiramdam ko ay hinihintay niya lang na manggaling sa akin."
Paano mo naramdaman na parang nasa ibang mundo na siya? Just give us an idea.
"Madalas po siyang wala sa bahay. He used to be a homebody. Kung pwedeng hindi umalis ng bahay ay hindi siya aalis ng bahay. This (being always out of the house) started late last year."
Did you confront him?
"A lot of times. I asked him if we are okay. Parang iba ka. Hindi ko na napi-feel iyong dating ikaw or iyong treatment mo sa amin."
And he would say?
"Akala mo lang iyon. Ganoon pa rin naman. He would dismiss our conversation."
Do you still love Paolo?
"Tito Boy, I could not answer your question because all this time grabe po talaga ang kapit ko sa Diyos to help me with what I'm going through right now. It's been so difficult. I tried to balance everything. Hindi po madaling kalimutan ang isang relasyon at isang pagmamahal sa tao na six years mong nakasama at hindi naman po ito na parang isang companionship lang. We had a serious relationship. But right now, I feel that I need to focus on my kids."
Are you angry?
"Yes, but I surrendered my anger to God. It is never easy. Kasi kapag nagmahal ka, nagtitiwala tayo, di ba? I gave my complete trust. Hindi ko lubos akalain na masasaktan ako at ang mga bata ng ganoon. Gusto ko na lang po talagang parang tanggalin sila sa sitwasyon kung kaya ko, kung kaya kong baguhin lahat. I really felt that I needed to leave with the kids. It was only my family who knew that I was leaving. It's traumatizing, Tito Boy. I hate to say the word. Litung-lito po ako kaya gusto ko rin pong makaalis. I want to be with my family."
You really want to protect your children. But let me clear out certain things. Did Paolo physically hurt the kids?
"Physically, hindi po."
Did you try to save the relationship?
"Yes, Tito Boy. I did that for the past several months. It came to a point that when we broke up, I realized after a few days that things should not be that way. There are kids. I thought they needed a complete family. I asked him if he wanted to take us back, pero hindi na daw."
I know that Pao took down all your photos. He stopped following anybody on his IG account. Did you know about it? When you learned about it, what was your reaction?
"I was really surprised and I felt disrespected not just for myself but for my kids because I told him that I was leaving with the kids. I told him that I could not rebuild my family. When I say my family, it now means me and my kids. I could not rebuild my family if we are in the Philippines after everything. Nasaktan ako na iyon lang ang hinihingi ko na makaalis kami ng mga bata peacefully na kung gusto man niyang sabihin in public okay lang pero sana iyong wala na kami sa Philippines kasi malaki na po si Aki. He is 11 years old. He goes to school. He talks to his friends. He surfs the Internet."
Did you and Paolo talk about marriage?
"Before po."
Some people would speculate — that based on her words maybe LJ still loves Paolo but he doesn't love her anymore. What do you want to tell people who would say that?
"Siguro nga po, Tito Boy. It's not a joke to be in a relationship for six years and you have a kid. You have kids. We planned to have a complete family."
If Paolo Contis calls in the middle of this conversation and says, "Balik na kayo," would you come home to the Philippines?
"No. It's not easy to forget. I know that I need to forgive but it's not easy to forget at hindi siya dapat kalimutan. I'm sorry but it should not be forgotten."
You don't want to go into details because Paolo will get hurt or the kids?
"I'm still protecting the kids, Tito Boy. But I just really want to set things straight na tama na po iyong iba-ibang kuwento."
What do you want to say to people who would like to listen to you?
"First, I want to thank the people who supported me and my kids. To the people who send their love and messages, I really appreciate all of them. I want to ask for your prayers and help me and the kids to start again peacefully."